Real Estate Home Staging – Rosemead Owner Occupied
On December 29, we staged a lovely owner-occupied house in Rosemead, CA. This Rosemead house has a great floorplan and flow with a very high ceiling in the livingroom, lots of windows and space. The homeowner hired us for a home staging consultation a few weeks ago so that she & her husband would have enough time to complete the necessary work. The home has been freshly painted and is sparkling clean. The kitchen and bathroom all have granite counters.
I'm so impressed with what a great job the homeowners did following my home staging consultation instructions. Many items went into storage to be moved into their new home, after this home is sold. We worked with a combination of the homeowner's own furniture and rental furniture. In addition, we brought in lots of artwork, accessories, lamps and silk plants. Since the family will continue to live in the home while it is on the market, we purchased new bedding and linens for them to use. I just love this embroidered duvet and bedding set in the master bedroom by Martha Stewart, which was purchased at Macy's.
This home has 5 bedrooms – 1 on the first floor and 4 on the second floor. Here's a shot of the guest bedroom on the second floor.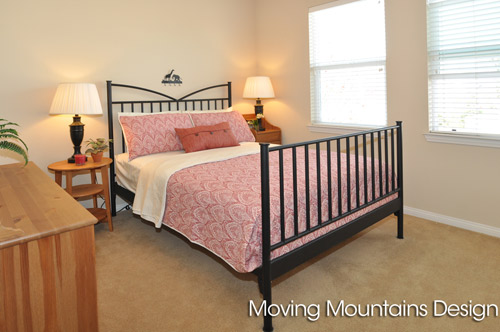 I mentioned before that this home has very high ceilings in the living room. Here's an overhead shot from the second floor overlooking the living room.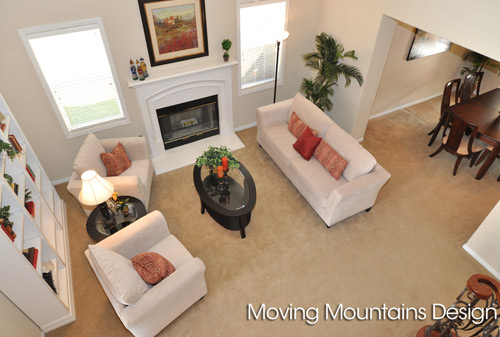 The home will be listed on the MLS next week. In the meantime, you can contact the listing agent Keith Yang, Long Dragon Realty (626) 888-2080. I think this home will sell quickly. Its in a very nice neighborhood, has a lot of space, a great patio for entertaining and it shows very well.
If you think your home or listing can benefit from a home staging consultation, please give us a call. We helped transform this home and we'd love to help you!