Curb Appeal – Creating Patterns In Your Lawn Like Professional Stadiums
Curb Appeal Tip – Have you ever wondered how you can create stripe or criss-cross patterns in your lawn like they do in professional baseball stadiums?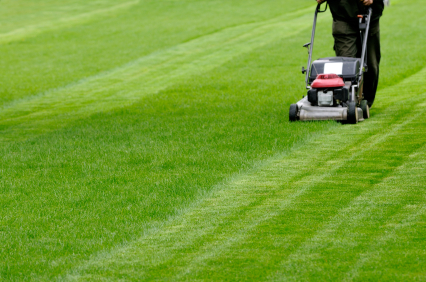 I don't know about you, but I'm always impressed when someone puts in a little extra effort to boost the curb appeal of a home. It makes the home more memorable, and implies that the homeowner has taken extra special care of the home.  I thought it would take a lot of measuring and planning to create a stripe pattern in a lawn, but it turns out, its not that difficult to create those stripe patterns in your grass. You can do it with a standard lawn mower, or even a rake,  just by pushing your mower (or raking) in the pattern you desire. The goal is to get the grass to lay over in one direction or another to create the pattern. Grass laying over towards you will look lighter in color, while grass laying over away from you will look darker. The longer the grass (2″ is optimal) the more distinct the pattern.
You can get more impressive results, with some professional tools like a "grass brush" attached to your mower.
Here's a video I found on a website VanWall.com, a lawn and garden equipment website:
Not many homes have lawn or grassy areas as large as a professional baseball or football stadium or a golf course, but this technique will work with smaller lawns as well.
I can't overstress the importance of curb appeal when selling your home. The first place home buyers will see your home is on the MLS or on other real estate listing websites. 99.9% of the time there will be photos of the front and back yard (or at least there should be). Any effort you expend to make your home stand out in the sea of pictures on the MLS is a good thing and should result in more showings.
©2016 Moving Mountains Design