Curb Appeal & Home Staging
In January I was called by some homeowners for a comprehensive home staging consultation. They wanted to prepare their home for sale and planned to put it on the market in the beginning of March. Yesterday we staged the home and I applaud the home owners (now home sellers) for following my home staging recommendations to a T! Countless hours of hard work and elbow grease went into making this home shine.
I can't over stress the importance of curb appeal when selling a home.
From the moment a prospective buyer has a first view of your home, they are making a sub-conscious decision about how much they like or don't like your home. If they have a good impression of the outside of your home (often called curb appeal), that is one less objection you must overcome when they walk through the front door. Your house (no matter how lovely) is not having to overcome that bad initial impression from the curb.
Here's the front of the home as I first saw it in early January.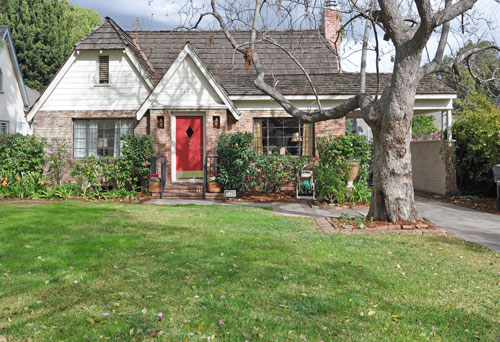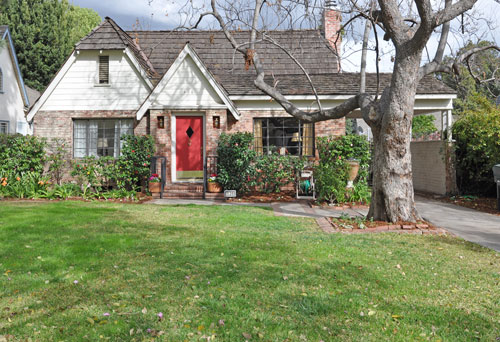 And here's the house almost 2 months later – the epitome of "charming English cottage"!
The list I gave them during the home staging consultation was long and specific. Some of my suggestions were:
Trim camellia bushes in front of the windows below the bottom of the window and "lace them out" (trim out some of the inner branches to give a lighter, more lacey effect).
Trim and lace out camellia bushes on either side of the front door and either corner of the house.
Remove all dead plants and fallen leaves.
Plant new colorful flowers in planting beds (I suggested adding Impatiens which grow quite well this time of the year in Pasadena).
Cover all exposed dirt with redwood bark chips.
Neaten border edging.
Broadcast a weed and feed product on the front lawn and rake in some grass seed on bare areas.
Paint the front door red for a jolt of eye-catching energy.
Add 2 bowls of colorful flowers on either side of the front door.
Making these changes created a true Cinderella transformation for this house. The house now shouts "Look at me! Aren't I lovely?"
This home is listed by Irina Netchaev, Keller Williams Pasadena, (626)627-7107. Read more about this home Charming Caltech Area Home Staging