Altadena Home Staging For A Real Estate Investor
Today we staged a house for a real estate investor in Altadena – our first house staging of 2012! I hope all the houses we stage this year are this adorable. I'm not sure if this home is actually a Janes Cottage – its outside the official boundaries of Janes Village – but it is certainly cute enough to be one. This house is an awesome deal at $385,000 (as of 1/12/12)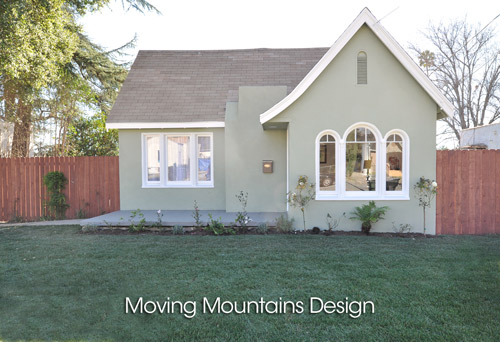 With 4 bedrooms & 2 bathrooms (the bedrooms have new carpet and the bathrooms have been completely redone with new tile, fixtures and cabinets) in 1,625 sq. ft., this home is an exceptional value. And check out the new kitchen, with new cabinets, appliances and granite counters: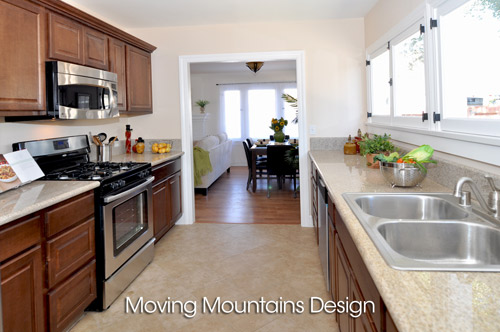 Since the outside of the house is painted that nice mossy green, I decided to carry that color into the living room and dining room: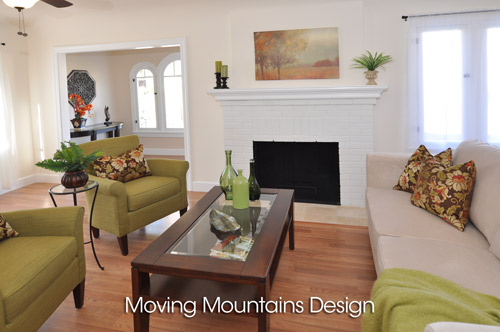 Yes, that's a fireplace and new engineered wood floors.
The master bedroom is very spacious with his and hers closets: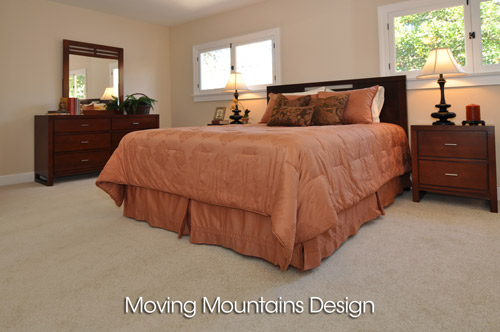 One more shot, just because I really love these green chairs and the silk throw pillows I used: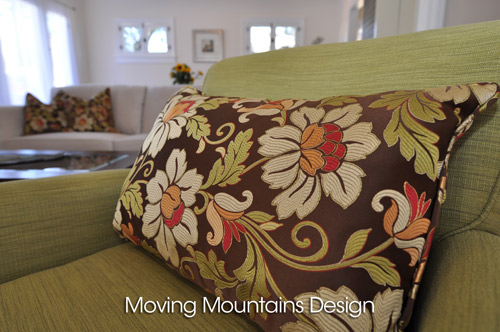 Here's some information about Janes Cottages for JanesVillage.net:
Janes Village is a neighborhood in Northwest Altadena, California, (Where is Janes Village?) designated in 2002 as an "Altadena Heritage Area" by Altadena Heritage. This designation was bestowed upon the area because of the unique architectural and historical character of the homes of this area which were largely designed and built by Elisha (E.P.) Janes between 1924 and 1926.
This home is located at 460 Alberta Street, Altadena. MLS# S683835 .  $385,000 for 4 bedrooms/2 bathrooms!
Moving Mountains Design works with real estate investors, home owners, real estate agents and asset managers to prepare their homes and property sale. We provide both occupied and vacant home staging services including furniture and accessory rental. If you are planning to sell your home or property and would like it sell fast and at a higher price, call Moving Mountains Design. We'd love to be a part of your team!