Pasadena Wind Storms – Info and Photos
This past week, November 30 and December 1, Pasadena was hammered by a very strong (and scary) wind storm. The following information was sent to me by Irina Netchaev, owner of Pasadena Views Real Estate Team.
The information was put together by Ann Erdman, City of Pasadena Public Affairs Media Office. For more info you can contact Ann Erdman, Office (626) 744-4755; Cell (626) 375-2742

The following information is based on assessments through late afternoon Friday, Dec. 2, and should be considered preliminary and subject to change.  Information will be updated as it becomes available.

325 miles of streets were impacted by storm debris – falling trees, tree limbs, utility poles and/or wires.  The primary goal has been to move debris to the side of the road so at least one lane in each direction is open.  Debris will be removed over the coming weeks.

100 percent of arterial streets are accessible
90 percent of secondary streets are accessible
The percentage of residential streets is unknown at this time

34 traffic signals reported for repair

8 were not Pasadena and were referred to Caltrans and the county of Los Angeles
Of the remaining 26, immediate/temporary repairs were completed on 18 with remaining eight pending

23 street lights reported for repair

Immediate/temporary repairs were completed on 18, with the remaining five pending

99 percent of Pasadena Water and Power customers are operational.  Crews still working on restoring service to 400 electric and 150 water customers

37 people were transported by Pasadena ARTs buses to a temporary shelter at Robinson Park Center. Twenty-five remained until late Friday afternoon when they were relocated. One senior citizen walk-in was later reported and remains at the shelter.

The Sunset Reservoir roof was damaged, requiring the reservoir to be drained and disinfected and the roof repaired.

Trees

More than 600 street trees fell and an unknown number of street trees were severely damaged
67 trees fell at Brookside Golf Course and 120 more were severely damaged
The number of trees that fell or were severely damaged in city parks is unknown at this time

5 building inspectors have inspected approximately 200 homes with varying levels of damage

46 housing units have been red-tagged, 40 in the same apartment building
13 structures have been yellow-tagged.

Street clearing

160 Public Works Department field employees were on duty Thursday and 160 on Friday
29 workers from Los Angeles County Department of Public Works were on duty Thursday and 32 on Friday
122 field employees from contractors were on duty Thursday and Friday

Fire Calls

From 8 p.m. on Nov. 20 to 9 p.m. on Dec. 2, the Fire Department was dispatched to the following:

57 fire calls
42 medical calls
109 service calls
163 wires or other electrical system-related calls
15 natural gas-related calls
Total = 386 (roughly 8 times the normal call volume)

11 other agencies assisted us on 94 calls.  At our peak, we had 27 units from other agencies handling calls in our city
Pasadena Fire Department regularly has 7 engines, 2 trucks and 5 ambulances available in the city and added 4 engines and 1 patrol to supplement capacity on Thursday

Police Calls

From 10 p.m. on Nov. 30 to 1 p.m. on Dec. 2, the Pasadena Police Department Communication Center processed 4,650 calls for service including 9-1-1 and non-emergency requests.
During the same operational period the Police Department called back or extended the shift of on-duty personnel, including:

13 police officers
11 Police Volunteers

o   248 pending incidents to be investigated were reported on Dec. 1
Here's some photos I snapped with my iPhone of the damage and aftermath: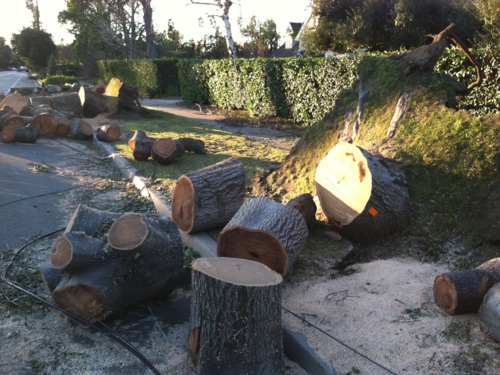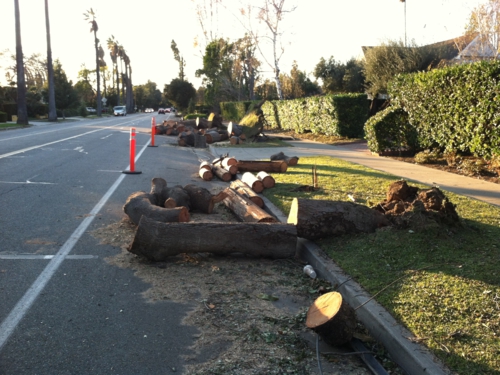 There was not a street that I drove down in the past 4 days that was not impacted by the storm. There are downed trees and piles of debris everywhere!