Pasadena Home Staging – Who You Hire Does Make A Difference
Pasadena Home Staging – Who You Hire Does Make A Difference
A little more than 2 months ago, Moving Mountains Design was hired to stage a cute Prospect Park Pasadena area cottage. The home received several offers and went into escrow very quickly, thanks in part to the fact that the home owners had hired us to stage it. Unfortunately, the buyer had a difficult time securing financing at the very end of the escrow period, and it looked like the home had to be put back on the market. The home went back under contract, and happily, closed escrow last week – with the original buyers! The sellers were on pins and needles with all the uncertainty, and wanted to wait until just before closing to destage. Because they had given us enough advance warning, we were able to coordinate a down-to-the-last-minute destaging.
Here's a link to the original post about this home: Pasadena Home Staging -Prospect Park Area Home For Sale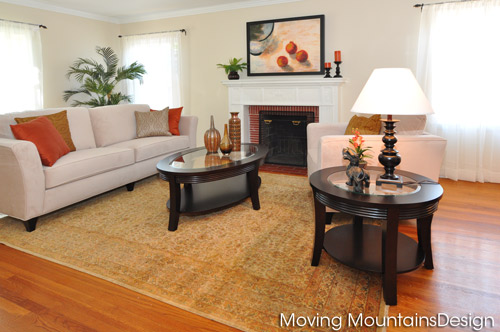 This morning I awoke to a very lovely testimonial on Angie's List:
We were putting our house on the market to sell and needed someone to furnish and get it market ready. Moving Mountains was one of four companies we reviewed. Michelle was by far the most knowledgeable and professional. She clearly knew the market and what needed to be done to get the house sold.
Michelle and her team beautifully staged the house in time for photos to be taken and posted on the MLS before the first open house. She also helped our Realtor to publicize it by leveraging her own network of brokers.  We were concerned about getting traffic to the open house as there was another similarly priced house on the market across the street that had very light traffic during the previous weekend when they held an open house. We ended up getting over 100 people at our first open house and were in escrow 2 days later after receiving multiple offers and getting over asking price.
We were supposed to be closing after 45 days so Michelle and her team were scheduled to de-stage the house a few days before the scheduled closing date. Her team was on the way to the house when we learned that the buyer was having issues with their loan and there was a possibility we'd need to re-market. Michelle was able to call her team back and re-schedule the de-staging about 5 times before we knew the loan was ready to go and it was safe to finally de-stage. She was incredibly flexible even though we were supposed to give her 5 days notice. Michelle juggled her schedule to accommodate us. Finally the loan came through and she emptied the house.
When the house was empty at the final walk through, our Realtor praised the staging and said that it definitely helped to command a much greater selling price than we would have received if the house had been empty. We would highly recommend Moving Mountains to anyone looking to sell their home.
Because Moving Mountains Design is well organized, with lots of staging projects under our belts, we were able to coordinate the truck rental, furniture pick-up and assistants on a very fluid and uncertain schedule.
If you think it doesn't matter whom you hire to stage your home, think again. You want to have the best team, with the most experience and staging skill watching out for you when selling your Los Angeles or Pasadena home. Click here to read How To Choose A Home Stager
Moving Mountains Design offers home staging in Los Angeles, Pasadena, San Marino, Arcadia, Glendale, Burbank  and the San Gabriel and San Fernando Valleys. Call us today to find out how we can help you sell your home faster and for the best price. (626)441-8975.