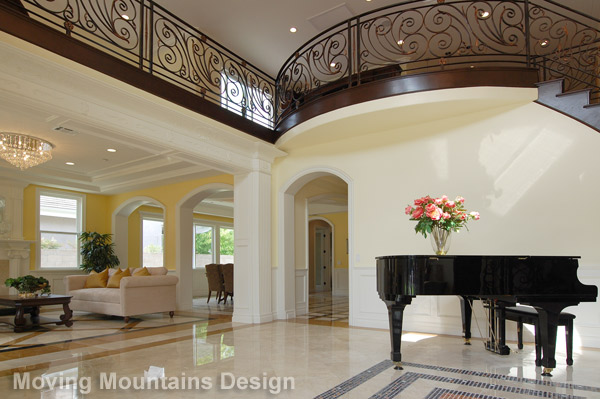 Los Angeles Home Staging – Luxury Arcadia Home
Los Angeles home staging company Moving Mountains Design staged a beautiful approx. 6,000 sq. ft. Arcadia luxury home yesterday.
This home is new construction and located on one of the nicer streets in Arcadia. We staged all of the downstairs including entry with baby grand piano, formal living room, formal dining room, kitchen, kitchen dining area, family room, formal office/library and guest bedroom. Upstairs we staged 2 master bedroom suites and  a second family room with wet bar. We used 5 fake flat screen TV's, 4 sofas, 6 arm chairs, 12 dining chairs, 3 dining tables (including the kitchen), 13 lamps and countless books, pictures, silk plants and flowers. It took 6 stagers plus 2 furniture delivery men 8 hours, but we finished on schedule in one day. We didn't select the colors, but we did tie everything together.
I haven't been able to go through all the photos yet, but here's a little appetizer. Enjoy!
I'll be posting more photos and information about this beautiful Arcadia luxury home in the next day or two.
Here's another post about beautiful Arcadia Home Staging