Arcadia Home Staging – Gorgeous New Construction Estate Home
Arcadia Home Staging – Gorgeous New Construction Estate Home
Here's photos of an Arcadia home staged by Moving Mountains Design, the best home stagers in Arcadia! We staged this gorgeous 6,000 sq. ft. new construction home in Arcadia, working with a builder noted for her exquisite finish details and beautiful, well constructed homes. We have worked for this builder and listing agent before, and they call Moving Mountains Design because they know we will stage their listings to show off the beautiful architectural details. The home has 6 bedrooms, 6 1/2 bathrooms, 2 kitchens (a regular kitchen and a stir-fry kitchen with a high BTU stove), 2 family rooms, 2 offices and a plethora of other high end details. Listed at $2.548M.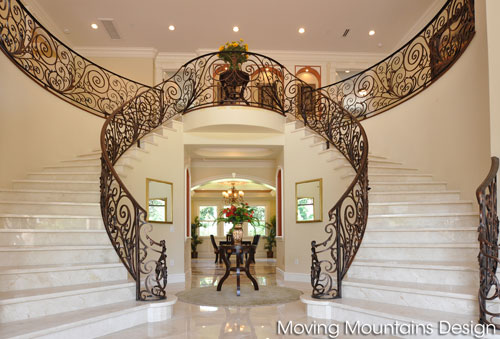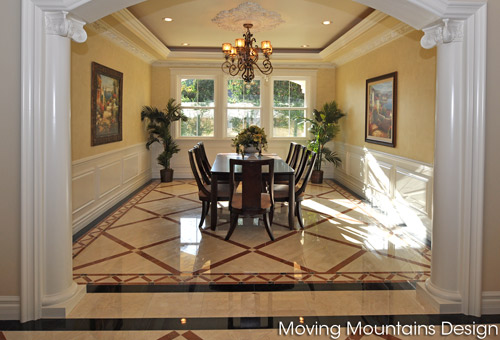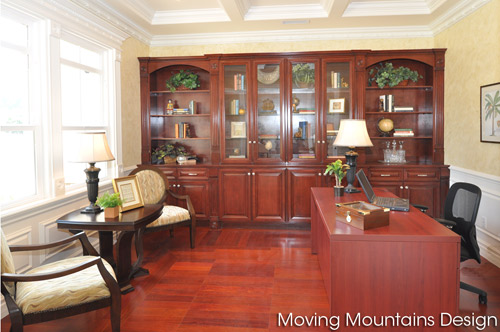 In staging this home, we staged the entry, formal living room, dining room, downstairs and upstairs family rooms, downstairs master bedroom, upstairs master bedroom suite, kitchen all bathrooms, maid's room and a music room with a baby grand piano. We also staged the office pictured above. We use high quality furniture and accessories, and always stage to accentuate the individual character of the home. Some stagers are less careful about their selection of furniture and accessories, but at Moving Mountains Design we will purchase new inventory, if we don't have the perfect accessories or artwork for each home. We work in concert with the listing agent to ensure your home is marketed, photographed and displayed in the best possible light. Our company tag line is "We know what makes homes sell™, and we really do!
If you are looking for a home stager that is very familiar with the local real estate market, call Moving Mountains Design, the best Arcadia home staging company at (626)385-8852. We stage condos, townhomes, single family homes, PUDs and estate homes throughout Arcadia, Pasadena, Monrovia, San Marino, and the San Gabriel Valley.
We know what makes homes sell!™