Arcadia Home Stager Featured In The Pasadena Star News!
On July 18, Arcadia home staging company, Moving Mountains Design, was the subject of a news story about home staging in Arcadia in the Business Section of the Pasadena Star News, part of the San Gabriel Valley Newspaper Group.  Kevin Smith, the Editor of the Business Section came out to the house, along with a photographer, to witness what happens when we stage a home. When Kevin arrived, I gave him a tour of the home located at 2002 S. Santa Anita Ave., Arcadia. The home is astonishingly beautiful, and Kevin really got an eyeful :o))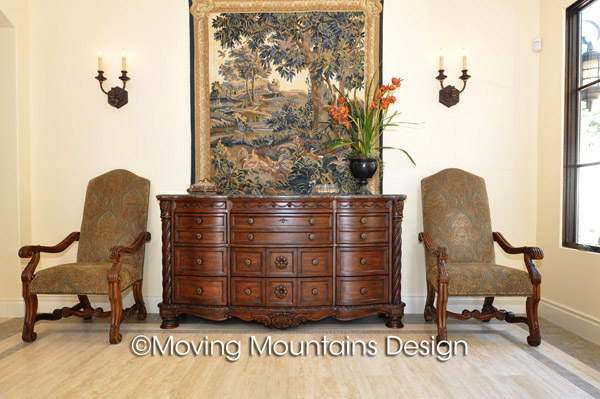 You can read the full story 'Home Stagers Tackle Upscale House In Arcadia' here
Here's an excerpt of the story:
…

Minch and her crew began staging the massive home at 9 a.m. Tuesday and were expecting to be finished by around 3 p.m.

Early that morning, three trucks arrived at the house loaded with furniture, artwork and accessories. Delivery workers positioned the large pieces throughout the home at Minch's direction and her team members continued to place other items – including rugs, mirrors, vases, plants, books and paintings – throughout the home.

And just how does a home-stager begin the process?

"I start by coming to the house and walking through all of the rooms," Minch explained. "I take photographs and make notes. Are the faucets chrome or nickel … and what color is the tile?"

Minch has been staging homes for so long she's immediately able to hone in on what each room needs.

"I can walk into a room and know right away how much furniture I need," she said. "I have a 1,500- square-foot warehouse in Arcadia that's filled floor-to-ceiling with accessories."
As the story mentions, we show up with a crew of furniture movers and assistant stagers (the number of assistants depends upon the size of the home) and usually start staging at 9:00AM. It's our goal to finish every home staging project on the same day. Finishing in one day is more efficient, keeping home staging costs down, and less disruptive for the home owner or listing agent. Also, we want to ensure that the home gets on the market as quickly as possible. At the end of the staging, I photograph the home and email the photos to the listing agent and home owner that evening, for use in marketing the home on the MLS. Again, our goal is to assist getting the home on the market as quickly as possible.